Artificial Lighting
is still the hot topic since the recently released Building Commission Practice Note 2011-55 clause 8.1 and BCA 2011 Section 3.12.5.5, with the provision to address artificial lighting.

My focus here is on the adjustment of ceiling insulation R values (R4.0, R5.0, etc...), due to

loss of ceiling insulation

mainly from

recessed downlights

as the area of ceiling insulation will be reduced. The loss of insulation will be required to be compensated for by increasing the R-Value of insulation in the remainder of the ceiling. This criteria has been added in BCA Section 3.12.1.2(e). Refer to Table 3.12.1.1b taken from BCA.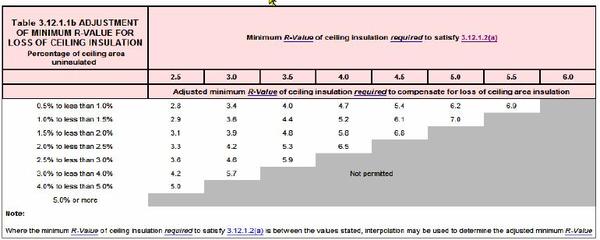 Example 1:


For a dwelling with no downlights, the ceiling insulation adjustment will not be required. Ceiling insulation to remain as is.



Example 2:


For a dwelling with 20-off downlights.
Ceiling area penetrated is: 3.8
Assuming total ceiling area: 200
Percentage penetrated: 2.43%
Ceiling insulation R3.5 required for 6-star. Adjustment is: R4.8

This adjustment is to apply for single-storey dwellings. For double-storey dwellings, adjustment will apply to ceilings exposed to the elements.



FAQ:

Does this ceiling insulation adjustment or quantity of downlights affect star rating?


Answer:

NO. Ceiling adjustment does not affect the star rating energy efficiency.